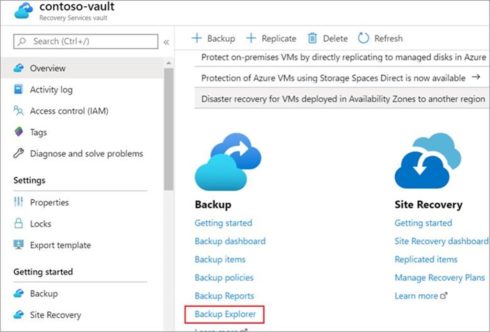 Microsoft has announced Backup Explorer for Azure is now available as a preview. According to the company, Backup Explorer is a built-in Azure Monitor Workbook that enables users to see real-time monitoring metrics across their entire backup estate. 
"Up until now, you could use a Recovery Services vault to get a bird's eye view of items being backed up under that vault, along with the associated jobs, policies, and alerts. But as your backup estate expands to span multiple vaults across subscriptions, regions, and tenants, monitoring this estate in real-time becomes a non-trivial task, requiring you to write your own customizations," Aditya Balaji, program manager at Microsoft, wrote in a post.
Benefits include: at-scale views, deep drill-downs, and quick troubleshooting and actionability.
Elastic Stack 7.6.0 released
The latest version of the datastore, search engine and analytics platform features improvements to the Elastic Stack as well as the Elastic Enterprise Search, Observability and Security solutions. It includes a new SIEM detection engine and detection rules aligned to the MITRE ATTACK knowledge base. 
In addition, the release focuses on speed, with dramatically improved performance of queries. 
The company also introduced Elastic Workplace Search for discovering, searching, and organizing internal data; and App Search on Elasticsearch Service for an advanced, managed search service. 
Tufin announces new security policy automation service
Tufin Secure Cloud is designed to give enterprises visibility and control into their cloud-native and hybrid cloud environments. The new solution will be part of the Tufin Orchestration Suite. It combines and extends functionality from Tufin Orca and Tufin Iris as well as provides cloud security policy management for containers, microservices, and hybrid cloud environments. 
"Enterprises are rapidly moving workloads to the cloud to gain greater business agility, achieve business goals, and drive digital transformation efforts," said Ruvi Kitov, CEO and co-founder of Tufin. "However, these new workloads often integrate with systems that reside in the data center or private cloud. With the addition of SecureCloud to the Tufin Orchestration Suite, for the first time, companies can enforce consistent policies across the entire hybrid cloud, enabling unified security policy management, regardless of environment. Tufin's policy centric, automation-based approach to managing security enables organizations to move to the cloud without compromising on security or developer productivity."
Nok Nok Lab's authentication solution for IoT devices
The passwordless consumer authentication provider wants to tackle the Internet of Things (IoT) with its multi-factor authentication solution Nok Nok IoT SDK. According to the company, the SDK supports standalone IoT devices as well as IoT devices connected to a cloud service.
The Nok Nok IoT SDK features the ability to run on existing microcontroller units, security industry standards and global regulatory requirements for "no (shared) default passwords," two-factor authentication, and support for all biometric modalities.