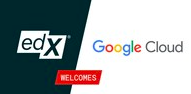 Google Cloud has announced that it is teaming up with the online learning platform edX to provide a certification program on its platform.
According to Google Cloud, this partnership will offer edX's 45 million users access to learn skills such as cloud basics, big data, machine learning, and Google Cloud specifics. 
The course will launch in November, but will be self-paced, which means students can progress through it at their own pace. According to edX, it will take about 2 months to complete if devoting about 4 to 5 hours per week to the course. 
The program is comprised of four Google Cloud courses: 
Cloud Computing Fundamentals
Infrastructure in Google Cloud
Networking and Security in Google Cloud
Data, ML, and AI in Google Cloud
The four courses are free to try individually, but the full certification program costs $396 USD. Registration is now open. 
"Google Cloud joins the ranks of leading companies and universities leveraging the edX platform to reach millions of learners worldwide with high-quality on-demand skills development," said Christopher "Chip" Paucek, co-founder and CEO of 2U, which owns edX. "Google Cloud's new certificate on edX will help create a broader and stronger ecosystem of cloud talent, with affordable, industry-specific training that complements the wide range of computer science degrees and big data courses offered by our partners on edX.org."