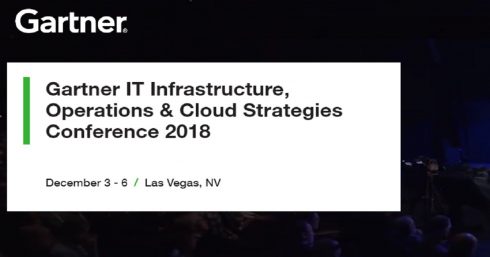 The future of IT infrastructure is about being always on, and always available, everywhere, according to a presentation by Gartner at its IT Infrastructure, Operations and Cloud Strategies, held this week in Las Vegas.
With applications so critical to business today, any outage could spell disaster for those companies, according to a number of conference sponsors interviewed there. And Bob Gill, Gartner vice president, said, "The ideal situation for [infrastructure and operations] leaders would be to coordinate the unmanageable collection of options we face today — co-location, multicloud, platform as a service (PaaS) — and get ahead of the business needs tomorrow. We must reach into our digital toolbox of possibilities and apply it to customer intimacy, product leadership and operational excellence to establish guardrails around managing the diversity of options in the long term."
But putting IT into a position of responsibility for business outcomes, not merely supporting the business, presents challenges as those organizations go forward. Also at its conference, Gartner analysts identified 10 trends that will impact I&O in 2019.
"More than ever, I&O is becoming increasingly involved in unprecedented areas of the modern-day enterprise. The focus of I&O leaders is no longer to solely deliver engineering and operations, but instead deliver products and services that support and enable an organization's business strategy," said Ross Winser, a senior analyst director at Gartner. "The question is already becoming 'How can we use capabilities like artificial intelligence (AI), network automation or edge computing to support rapidly growing infrastructures and accomplish business needs?' "
The 10 trends, according to Gartner, are:
Serverless computing
As functions replace infrastructure provisioning and management, Winser said IT operations must take an application-centric approach, managing APIs and service-level agreements instead of servers.
AI impacts
Gartner said AI-derived business value will approximate $3.9 trillion by 2022.
Network agility (or lack of?)
The focus for 2019 and beyond, WInser said, must be creating network agility, based on automation and analytics, to keep pace with demand. Winser explained that 5G and the growth in IoT devices are factors that will place new demands on the network.
Death of the data center
Gartner expects 80 percent of enterprise to move to the cloud or colocation and hosting sites by 2025.
Edge computing
As edge devices process the increased flow of information, organizations will need to rethink what they deploy and manage.  Winser says the critical time for edge adoption is between 2020 and 2023.
Digital diversity management
The need for discovery and maintenance of assets that affect finances and the welfare of an organization's customers will require IT to prepare for a shift from traditional asset management, Gartner said.
New Roles Within I&O
I&O leaders will have to present the higher-ups in the organization with an explanation of how staffing levels and roles can affect business performance and strategic objectives.
Software as a Service (SaaS) Denial
SaaS adds a level of complexity for infrastructure that managers haven't yet come to terms with, according to Winser.
Talent management becomes critical
Up until now, IT professionals had very specialized skills, based on the technology stacks they were managing. As organizations make their digital transformations, they need people who can work across stacks to prevent work stoppages, Gartner said.
Global infrastructure enablement
Gartner wrote: "Despite few infrastructures being truly "global" in nature, organizations must still prepare for the notion of "infrastructure everywhere. While doing so, I&O leaders must work within the constraints of tight budgets and cost pressures."
Gartner clients can learn more about I&O leadership in the report, "2019 Planning Guide for Infrastructure and Operations."
Sponsors show new features:
GigaSpaces updates analytics platform
GigaSpaces announced at the conference the general availability of InsightEdge Platform v14.0 and XAP v14.0, to simplify customers' development and deployment of applications required for time-sensitive and mission-critical services.
New features and functionality in version 14.0 include:
Kubernetes environment support; for simplifying deployment in cloud, on-premise and hybrid environments
Intel Optane DC Persistent Memory integration utilizing GigaSpaces MemoryXtend module to significantly lower total cost of ownership (TCO) and increase capacity with near in-memory performance
Customized rebalancing policies to perform a hot swap during runtime without having to reload the data
Data visualization with faster access to Apache Zeppelin for InsightEdge users only
Avi Networks announces service Mesh
Avi Networks sees service mesh as the future of application delivery, security, and visibility, with the potential to reshape the nearly $12 billion market for application services (load balancing, security, and monitoring). To that end, the company this week announced Universal Service Mesh, adding two major enhancements to the Avi Vantage Platform.
Avi is delivering enhanced, full-featured, ingress and gateway services to Istio to facilitate secure connectivity for Kubernetes applications across multiple clusters, regions, or clouds. These include L4-L7 traffic management, security including WAF, and observability.
Avi also is integrating Istio within its Avi Controller and extending service mesh features to applications running on bare metal servers or virtual machines. This enables customers to deploy a single service mesh across all of their applications, traditional and containerized, both on-prem and in public clouds.