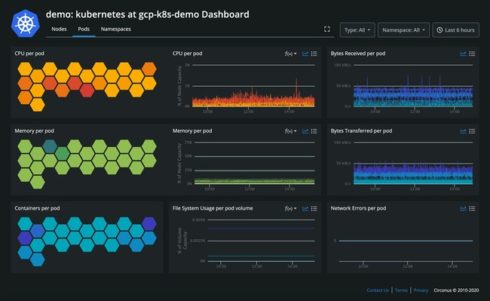 Machine data intelligence platform provider Circonus is releasing a new Kubernetes monitoring solution to give IT teams health-based alert capabilities and ability to auto-scale. The monitoring solution is part of the company's Spring 2020 release, which also features improvements to cloud monitoring, GCP marketplace availability, performance enhancements, and integration with Terraform. 
The Kubernetes monitoring solution is designed so enterprises can monitor one or more Kubernetes clusters. Features include dashboards, increased visibility into cluster performance and health with alerts, horizontal pod auto-scaling strategies that can be custom-tuned, and native StatsD collection support. 
"What makes auto-scaling with Circonus unique is the ability to drive auto-scaling based on rich historical data analysis that customers have stored within Circonus — driving efficient, novel auto-scaling in a way that no other solution currently can. As a result, organizations can create dynamic auto-scaling strategies that will ensure optimal performance, reduce costs, and save time," the company wrote in its announcement. 
In addition, the company's IRONdb time-series database is now available in the GCP marketplace so users can now run their own instances within their private clouds. 
For cloud monitoring, Cironus is now providing a loud agent to make it easier to collect metrics from AWS, Azure, GCP and in-app dashboards. 
"Unlike traditional monitoring tools, the Circonus machine data intelligence platform was purpose-built to offer unlimited scalability," said Bob Moul, CEO, Circonus. "It can ingest, store, and analyze trillions of measurements a second in real-time across billions of individual metric streams. This allows today's enterprises to gain levels of valuable insights that were previously untapped, enabling them to improve the performance of their IT infrastructure, prevent issues before they arise, optimize processes, and make better business decisions."
Other updates include: ability to run analytic queries on thousands of app metrics in near real time; extension and documentation improvements to the company's Terraform provider; metric ingestion enhancements; and a new UI experience that includes dark mode and responsive behavior.