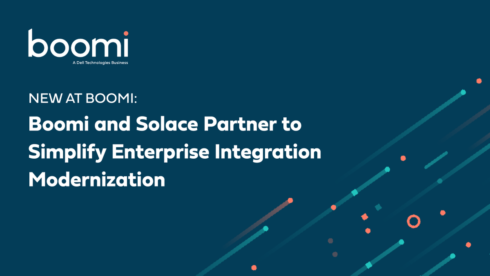 The cloud-based iPaaS company Boomi and event streaming and management provider Solace have collaborated on a new native connector designed to help users create better, data-driven user experiences.
The PubSub+ Connector for Boomi will give Boomi AtomSphere platform users access to Solace's PubSub+ Event Portal, an event management toolset for designing, creating, discovering, cataloging, sharing, visualizing, securing and managing enterprise events. Additionally, it will feature real-time visibility into environments and simplify data stream connections. 
"The new PubSub+ Connector for Boomi makes it easier for Boomi customers to get even more value out of their existing assets by enabling real-time event-driven communications across diverse cloud, on-premises, and IoT environments," said Edward Funnekotter, vice president of engineering, Solace. "By making Solace's publish/subscribe capabilities accessible within the Boomi user interface, the connector tightly integrates Solace's platform with Boomi's iPaaS."
According to the companies, the connector is meant to address the lack of tools available for event-driven integration across distributed environments. 
"Boomi and Solace have a long-standing common goal of ensuring the customer's user experience is first and foremost," said Ed Macosky, senior vice president of product at Boomi. "With the new PubSub+ Connector for Boomi, Solace makes it easier for our iPaaS customers to apply their applications and information sources to innovative new use cases by linking them in an event-driven manner. Solace has a proven track record of helping enterprises of all shapes and sizes reap the rewards of event-driven architecture and we look forward to seeing how our joint customers will benefit."