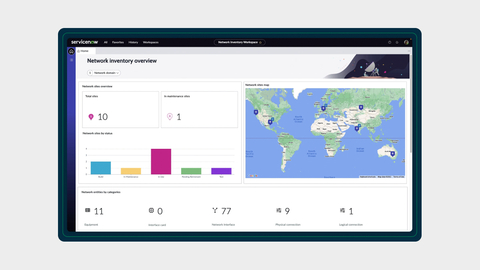 ServiceNow and AT&T today announced a global telecom product geared at helping communications service providers manage 5G and fiber network inventory. Built on the ServiceNow platform, Telecom Network Inventory is available today for telcos globally.
The companies stated that this release works to solve the complexities of managing network inventory by offering a single platform that connects systems in order to enhance network investments, manage orders, improve user service experiences, and enable business agility.
"Working with ServiceNow to develop Telecom Network Inventory was a great collaboration to create a tool that could help us address an industry-wide challenge," said Jon Summers, senior vice president of information technology and chief information officer at AT&T. "As we approach our internal deployment, we also look forward to seeing how other operators around the globe might take advantage of it."
AT&T will be providing strategic guidance as ServiceNow continues to improve Telecom Network Inventory in order to ensure the product brings users modern solutions for the increasingly complex needs of the telecom industry. 
Additionally, AT&T has plans to utilize Telecom Network Inventory to gain better insight into its network operations and issue resolution.
"ServiceNow brings its process-centric approach to network inventory that has often been missing or fragmented before," said Francis Haysom, principal analyst at Appledore Research. "With Telecom Network Inventory, operators have an opportunity to better support end-to-end network automation and increasingly dynamic and valuable network services."