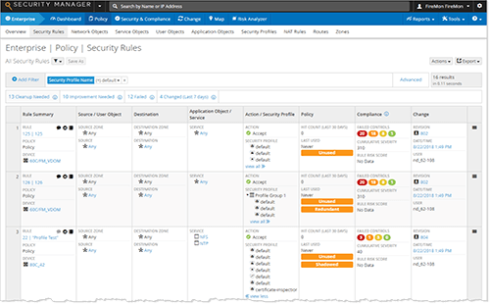 FireMon's new agile network security policy management platform offers security capabilities to enable cloud and digital transformation initiatives. 
"Our customers have told us that traditional approaches to managing network security policy are too cumbersome for their dynamic cloud and hybrid environments," said Satin H. Mirchandani, the president and CEO of FireMon. "Our agile approach to NSPM delivers exactly what they're asking for — the ability to efficiently respond to increasing rates of change and heterogeneity while maintaining security and compliance."
FireMon solutions leverage the headless orchestration API, which allows customers to integrate with any existing system or process including IT service-management platforms such as 
ServiceNow, Security Orchestration Automation and Response (SOAR) tools like Splunk Phantom and Palo Alto Cortex SOAR, and DevOps platforms like Red Hat Ansible and HashiCorp Terraform.
The platform injects security and compliance into any process by addressing inefficient rule creation and change processes and delivers risk assessment through pre-change simulation and provides policy change recommendation.
Another key feature is a unified view for cloud security policies – in which cloud constructs such as security groups are presented natively, even as policy is managed holistically across both cloud and on-premises. 
It also offers extensive support for SD-WAN and SASE support, customizable workflows, headless orchestration APIs, and more. 
"This launch is about giving our customers greater agility and responsiveness at a time when they absolutely need it," said Jim Birmingham, the senior vice president of engineering at FireMon. "The new features we're delivering are to support digital transformation and cloud initiatives while giving our customers the security and compliance assurance that they need."