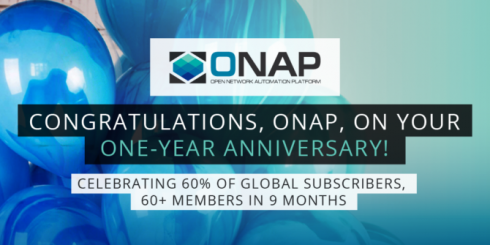 The Open Network Automation Platform (ONAP) is celebrating its one year anniversary this month. ONAP is a platform for the automation of physical and virtual network functions. Over the course of its first year, the ONAP project has reached many milestones including a strong participation from the developer community.
It issued its first code release, Amsterdam, in November, merging two existing projects together and re-architecting the code base into a single platform. Amsterdam provides a unified architecture for closed-loop network automation, a necessity for 5G and IoT deployments.
After one year, ONAP now supports 60 percent of the world's mobile subscribers. In just nine months, it was implemented in production at AT&T and Bell Canada, and then later at Verizon. It also has added more than 60 other member in the first nine months.
ONAP has a strong developer participation, with 459 individuals having contributed code to it as of this month, according to the company.
In addition, it recently received Synopsys' Open Source Rookie of the Year Award, which is given to celebrate innovative and influential open-source projects.
"But it's not just about statistics —  what we're really celebrating is the community at large, and what it represents: ONAP is one piece of a larger strategic initiative, serving as the glue that binds open source networking together. What ONAP brings to the table — a unified platform for  closed-loop automation — is built on years' of collaborative efforts across open source projects and communities," the Linux Foundation wrote in a blog post.
The team is currently working on its second code release, ONAP Beijing, which will be released later this spring.