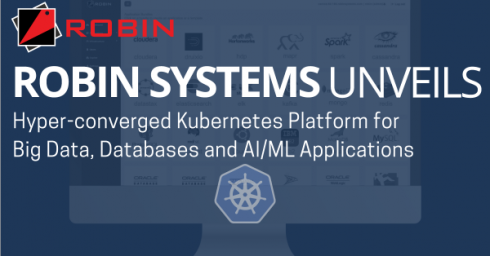 Robin Systems wants to extend Kubernetes to data-heavy apps with the release of its hyper-converged Kubernetes platform ROBIN. The new platform is designed to bring the benefits of Kubernetes to Big Data, databases, and artificial intelligence/machine learning solutions.
"Kubernetes is the de-facto standard for container orchestration for microservices and applications. However, enterprise adoption of big data and databases using containers and Kubernetes is hindered by multiple challenges such as complexity of persistent storage, network, and application lifecycle management. Using the unique hyper-converged Kubernetes technology, with built-in enterprise-grade container storage and flexible overlay networking, ROBIN eliminates these challenges and extends Kubernetes' multi-cloud portability to big data, databases, and AI/ML," the company stated in an announcement.
According to the company ROBIN embeds application lifecycle management natively into the compute, storage and network infrastructure stack of any app on-premise or on the public cloud. It features 1-click app and cluster provisioning, network and storage persistence, application lifecycle operations for data-heavy apps on Kubernetes, and guarantees SLAs when consolidating data.
In addition, Robin Systems announced a $17 million series B round of rounding to help grow and expand its platform offering. Additionally, the platform can provision, scale, cloud and migrate Big Data and databases; cloud an entire app including data; and upgrade in a fail-safe manner.
"Surprisingly, even with the numerous platforms available for Kubernetes, most require IT and DevOps to undertake lengthy third-party integrations as well as execute tedious, manual, repetitive processes for each on-premise and cloud installation. Our Series B Round validates that Robin is uniquely equipped to make a difference for DevOps and IT, dramatically increasing productivity and reducing costs while improving resource allocation and performance," said Premal Buch, CEO of Robin Systems.