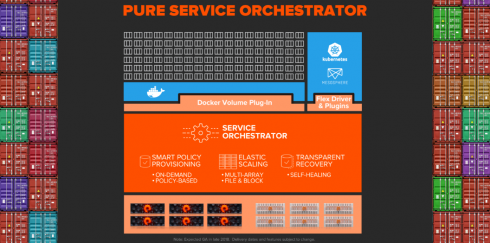 Pure Storage has announced Pure Service Orchestrator, a container storage-as-a-service solution that enables IT and developers to deploy container-based applications.
The solution is designed to provide faster time-to-market and drive innovation with support for dynamic containerized environments.
Pure Service Orchestrator includes integration with Docker and Kubernetes, which allows it to support containerized environments via the Docker volume plugin and Kubernetes FlexDriver.
By using an automated, intelligent, and scalable approach to storage provisioning, the company says it delivers a the cloud-like experience that developers expect. It also scales elastically across storage systems in addition to supporting highly fluid containerized environments.
"Application architectures have begun to evolve from monolithic, scale-up and virtualized applications to scale-out, microservices applications. These new applications are typically built on containers, but lack of persistent storage support for stateful containers threatens to slow adoption," said Sandeep Singh, senior director of solutions marketing for Pure Storage. "Stateless containers can be spun up and down within seconds, while stateful containers live much longer. Some containers require block, while others require file storage. Developers are the fabric of modern business and must be empowered to consume storage-as-a-service for containerized applications."