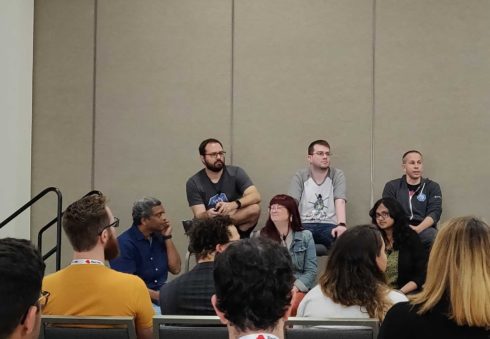 Accountability and transparency are crucial to open-source projects. On Thursday at KubeCon, six of the seven Kubernetes Steering Committee members held an open discussion with constituents to discuss goals, challenges, and other pressing issues in Kubernetes. 
Members present included Davanum Srinivas, Timothy St. Clair, Paris Pittman, Derek Carr, Christoph Blecker, and Nikhite Raghunath. Aaron Crickenberger wasn't able to make the event. 
The panel gave some of the newer members the opportunity to talk about their term goals (terms on the steering committee last for two years). Raghunath plans to focus a lot of her effort on sustainability of the project. Pittman agreed that this is important and, in addition, wants to focus on communication. She would like to get people more involved in steering and be aware of the things that are being worked on. Blecker added that he would like to take a look at decisions made around SIG charters and governance and ask if they are currently working as planned, and if they could be made better.
When asked what the biggest threat to long-term success is, the group also pointed out sustainability. St. Clair believes that sustainability and scalability are challenges, especially when it comes to technical debt. "We built a rocketship while blasting it off at the same time," he said. St. Clair also wants to see how the committee can encourage companies to pay down that technical debt. 
Similarly, Srinivas is thinking about starting a think tank group to go over existing code. He also added that they need to move from being West Coast, 9-5-based to global, otherwise it will be hard to move forward. 
While talking about the project as a whole, and the process of changing it, Carr noted that the bar for changing Kubernetes is high. The risk of doing things wrong is also high. He wants to encourage the community to be successful. He envisions a broad ecosystem of products where people are encouraged to innovate and fail, then try again. 
Pittman added that another thing they have to keep in mind as the steering committee is it's important to remember that it's okay to say no to things. It's also important to include documentation about why you're saying no. 
Finally, St. Clair concluded that the Kubernetes community comes before individual companies that may be contributing. "We're all on the same team," said Blecker. "We're all from different companies, but we're all on the same team."