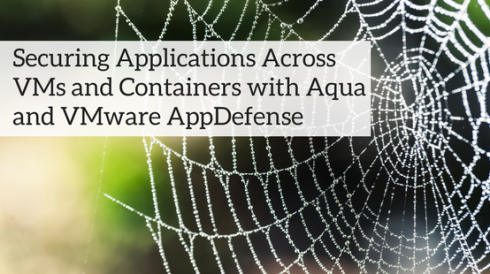 Aqua Security and VMware announced a new partnership to protect applications deployed across both virtual machines and containers. As part of the partnership, VMware's AppDefense will combine with the Aqua Container Security platform in order to provide a security solution that covers containerized and non-containerized components.
"The combined solution allows security teams to manage their security policy for VMs and containers within AppDefense, as well as view and respond to policy violations from Aqua within AppDefense," the Aqua Security team wrote in a post.
VMware AppDefense is designed to protect apps in virtualized environments. Features include monitoring and automatically responding when apps deviate from their intended state. In addition, AppDefense includes integration with DevOps solutions, artificial intelligence and machine learning capabilities.
The Aqua Container Security platform targets container and cloud native app security. Features include the ability to detect issues early and minimize the attack surface. In addition, it monitors runtime environments and prevents malicious activity.
Together, the two solutions will provide visibility across VMs and containers, container image assurance, monitoring and enforcement, and auditing and compliance.
"As organizations deploy applications across increasingly diverse data center endpoints and hybrid cloud environments, security must address the application layer in an efficient and scalable way that supports those modalities," said Tom Corn, senior vice president and general manager, security products at VMware. "Aqua Security's in-depth visibility and control in containerized applications offers customers a valuable extension and enhancement to VMware AppDefense that will enable security teams to secure applications at a more granular level, regardless of how they are deployed."
The combined solution is expected to be available in VMware's Q2 fiscal 2019, which ends on July 3, 2018.