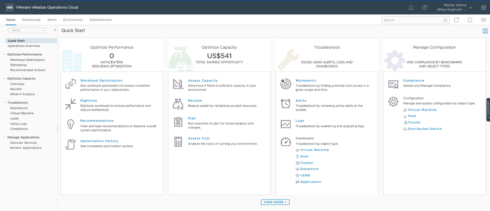 VMware has announced its self-driving operations system is now available as a software as a service (SaaS) solution. According to the company, VMware vRealize Operations Cloud is designed to improve operational agility, scale, speed and flexibility. 
"Enterprises in every stage of their cloud journey are looking for operations solutions that are purpose-built for cloud and support applications running in their existing virtualized data center and cloud environments in an intelligent, self-driving way," said Ajay Singh, senior vice president and general manager of VMware's Cloud Management Business Unit. "VMware vRealize Operations Cloud helps empower customers to simplify their journey from private cloud to hybrid cloud to multiple clouds. All with the goal of achieving greater IT and business agility for faster achievement of business outcomes."
Features include:
Continuous performance optimization
Efficient capacity and cost management
Intelligent remediation to predict, prevent and troubleshoot issues
Integrated configuration and compliance
VMware cloud on AWS integration
Integration with VMware vRealize Log Insight Cloud
Integration with VMware vRealize Automation Cloud
According to the company, during the solution's beta phase it aggregated more than 130,000 virtual machines under management across more than 120 vCenters and 10 VMware Cloud on AWS deployments. 
Börse Stuttgart, Tabcorp and Trilogy beta tested the solution. 
"With VMware vRealize Operations Cloud, we were able to gain full visibility across our environment—which we didn't have previously," said Fuat Ulugay, SaaS operations manager, Trilogy. "The insight delivered by the service led us to immediately reduce our hosts by 20 percent—saving us thousands of dollars in the process. In less than a week, we were able to right-size our environment, optimize our performance and see what we needed for capacity planning."