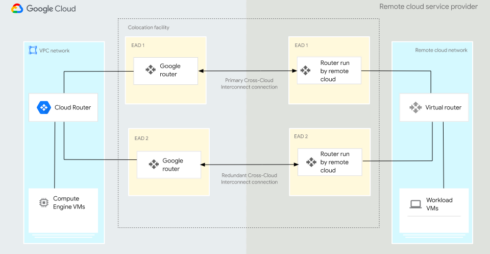 Google Cloud today announced an expansion of its Cloud Interconnect portfolio with Cross-Cloud Interconnect. This allows the user to connect any public cloud network with Google Cloud, enabling organizations to run apps on several clouds, make SaaS networking in a multicloud environment easier, and move workloads between clouds. 
Improvements have also been made for Private Service Connect, a capability of Google Cloud networking that lets users access managed services from inside their VPC network, in order to support Cross-Cloud Interconnect as well as automated service connection policies. Additionally, a new total cost of ownership analysis has been released for Cross-Cloud Interconnect.
According to the company, Cross-Cloud Interconnect does not require the use of any hardware, has the same capabilities as Cloud Interconnect, and is backed with an SLA. 
With this, customers gain private and secure connectivity across clouds, a 99.99% SLA to offer line-rate performance and high reliability, and a reduced total cost of ownership without the need to manage infrastructure.
"As enterprises, globally, look to adopt hybrid and multicloud network services – as part of their digital transformation journeys, they increasingly recognize the strategic value of cross-cloud interconnection capabilities as integral to their business success. Google Cloud's Cross-Cloud Interconnect offerings address a broad range of hybrid and multicloud network connectivity use cases that span the datacenter, cloud core, and edge, while offering multi-gigabit speeds, disruptive pricing, high-availability, and ease of use," said Vijay Bhagavath, research VP for cloud and datacenter networking at IDC.
Further, the company unveiled new enhancements being made to Private Service Connect.These include the general availability of Private Service Connect over Cross-Cloud Interconnect, giving users access to provider services in Google Cloud from Cross-Cloud Interconnect.
Dedicated Interconnect is also now generally available and is geared at offering secure and resilient connectivity for hybrid cloud networking. 
To learn more, register for Google Cloud Next 2023.