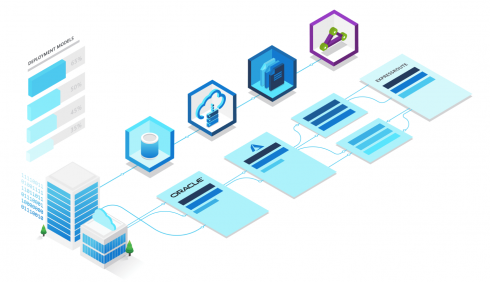 Two rival cloud providers are teaming up to bring hybrid and multi-cloud deployment to fruition. Microsoft and Oracle today announced a new partnership that will connect Microsoft Azure to the Oracle Cloud.
"The majority of large enterprises around the world use both Oracle and Microsoft solutions to power their businesses, running these solutions side-by-side in their on-premises data centers. When enterprises migrate their workloads to cloud, they often become stranded on multiple cloud islands, with little ability to share data between the islands," Vinay Shibagange Chandrashekar, vice president of product management at Oracle, wrote in a post. "The alliance between Microsoft and Oracle represents an industry-first offering that gives customers the ability to seamlessly use multiple clouds with much greater effectiveness. It moves customers towards the promise of nimble apps that can shift from cloud to cloud easily, and even deploying individual apps that span multiple clouds."
The new partnership will provide:
Cross-cloud capabilities

Cross-cloud networking through high-bandwidth, low-latency private networks, which will connect between Azure and Oracle Cloud infrastructures
Unified identity and access management such as single sign-on and identity controls across both environments
Collaborative support to enable users to deploy new interconnected configurations
Supported cross-cloud deployment templates
Cross-cloud provisioning

Multi-cloud use cases

Applications that run in separate clouds but have consistent controls and data sharing abilities
Applications that span clouds with a database layer in one cloud and the app and web tiers in the other.
"As the cloud of choice for the enterprise, with over 95% of the Fortune 500 using Azure, we have always been first and foremost focused on helping our customers thrive on their digital transformation journeys," said Scott Guthrie, executive vice president of Microsoft's Cloud and AI division. "With Oracle's enterprise expertise, this alliance is a natural choice for us as we help our joint customers accelerate the migration of enterprise applications and databases to the public cloud."