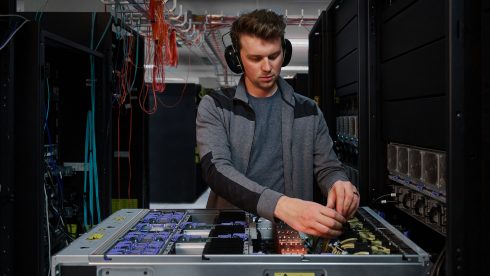 IBM has announced the first of a new family of IBM Power servers, which are designed for hybrid cloud environments. 
The server, IBM Power E1080, includes minute-based metering of Red Hat services like OpenShift and Red Hat Enterprise Linux, more than 4x OpenShift throughput compared to x86 servers, and improved architectural consistency.
It also includes a number of performance improvements and reduced carbon footprint over its predecessor, the IBM Power E980. It also includes four matrix math accelerators in each core, which allows for up to five times the performance compared to the previous edition. 
IBM Power E1080 comes equipped with security capabilities that are designed specifically for hybrid cloud environments, such as transparent memory encryption. 
"When we were designing the E1080, we had to be cognizant of how the pandemic was changing not only consumer behavior, but also our customer's behavior and needs from their IT infrastructure," said Dylan Boday, VP of product management for AI and hybrid cloud at IBM. "The E1080 is IBM's first system designed from the silicon up for hybrid cloud environments, a system tailor-built to serve as the foundation for our vision of a dynamic and secure, frictionless hybrid cloud experience."
The new server generation will come with the support of an ecosystem of ISVs and business partners. IBM is also creating a new tiered Power Expert Care service. 
Aqua Security announced that it is the first security PartnerWorld partner for the server. "Combining Aqua's frontline research and innovative open source contributions, the Aqua Platform offers a robust commercial product to further protect cloud native applications running on the new IBM Power10-based systems," Aqua Security wrote in a blog post.