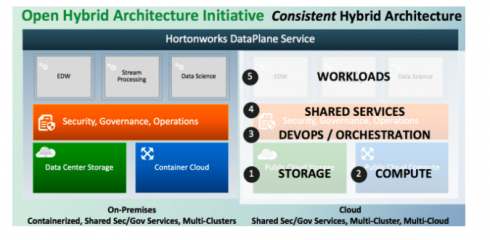 Hortonworks, IBM and Red Hat have announced a new collaboration to bring Big Data to hybrid environments. The companies announced the Open Hybrid Architecture Initiative designed to take Big Data workloads across on-premise, multi-cloud and edge architectures.
The initiative will bring Hortonworks Data Platform, Hortonworks DataFlow, Hortonworks DataPlane and IBM Cloud Private for Data to Red Hat's enterprise container and Kubernetes application platform OpenShift. According to the companies, this will enable the development and deployment of containerized Big Data workflows and provide the ability to manage data apps across hybrid cloud deployments.
IBM and Hortonworks will also work towards integrated services for Hortonworks DataPlane with IBM Cloud Private for Data. Today's news builds upon Hortonworks and IBM's previously established partnership to accelerate data-driven decision making.
"The work that Red Hat, IBM and Hortonworks are doing to modernize enterprise big data workloads via containerization is aimed at helping customers to take advantage of the agility, economics and scale of a hybrid data architecture," said Rob Bearden, chief executive officer of Hortonworks. "The innovations resulting from this collaboration can enable the seamless and trusted hybrid deployment model needed today by enterprises that are undergoing significant business model transformation."
In addition, Hortonworks will work to certify Hortonworks Data Platform, DataFlow and DataPlane as Red Hat Certified COntainers on OnShip and enhance HDP for a cloud-native architecture. IBM is already working on the Red Hat OpenShift certification process for IBM Cloud Private Data.
"Kubernetes is the de facto container orchestration system and we have been working in this ecosystem since the project's infancy to help make it ready for all, and especially the enterprise in Red Hat OpenShift. Today we are thrilled that Hortonworks and IBM Cloud Private's data portfolio have selected Red Hat OpenShift as the trusted Kubernetes platform for big data workloads," said Ashesh Badani, vice president and general manager of cloud platforms for Red Hat. "By building and managing their applications via containers and Kubernetes with OpenShift, customers and the big data ecosystem have opportunities to bring this next generation of big data workloads to the hybrid cloud and deliver the benefits of an agile, efficient, reliable, multi-cloud infrastructure."