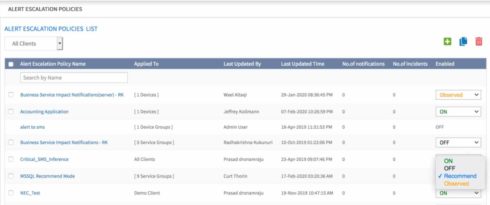 AIOps company OpsRamp has announced its Winter 2020 Release with new capabilities to make AIOps easier for the everyday operator. The release includes AI-driven suggestions, cloud monitoring integrations, and hybrid discovery and synthetic monitoring.
"While machine learning models for IT operations have generated considerable excitement among technology decision-makers, customers would like to understand how a black box model works before ceding control, " said Bhanu Singh, SVP of engineering and DevOps at OpsRamp. "The Winter 2020 Release ensures greater transparency of machine learning models for intelligent event and incident management, along with enhanced monitoring capabilities for leading public cloud platforms."
RELATED CONTENT: 
How to get from where you are to AIOps
The AIOps Buyers Guide
The company's intelligent event management, alert correlation and remediation engine OpsQ has been updated with new AIOPs capabilities such as: OpsQ Recommend Mode, a alert stats widget and the ability to visualize alert seasonality patterns. OpsQ Recommend Mode is a new capability for first-response and incident remediation. It tackles alert escalation policies and enables IT teams to move faster in incident response with auto-suggested actions. "With Recommend Mode, IT pros can either suppress an alert or escalate inferences into incidents with a single click. When users enable Recommend Mode, the OpsQ Bot delivers precise suggestions for alert escalation policies within the alert itself," Michael Fisher, product manager at OpsRamp, wrote in a blog post. 
The ability to visualize alert seasonality patterns aims to reduce frequent and unnecessary alerts by helping users understand alert behaviors and auto-suppress decisions. The new alert stats widget invests native and third-party events in order to uncover patterns for incident diagnosis. It includes the total events, total inferences, total correlated alerts and overall event volume in a given period. 
For multi-cloud monitoring and management, the Winter 2020 Release comes with deeper cloud monitoring support for AWS, Azure and GCP cloud services; and cloud topology maps that provide automated topology discovery and mapping for Azure and GCP. 
In addition, the release features new capabilities for agentless discovery and synthetic monitoring. Agentless discovery and monitoring now supports Windows computer resources and enables enterprises with remote officers to manage distributed infrastructure in a secure way. Synthetic monitoring now provides more insights and analysis for troubleshooting and multi-step transactions. 
The release also includes new alert integrations for Dynatrace, Logz.io, Prometheus, Splunk and Zabbix. 
"The goal with OpsRamp's AIOps platform is to not only solve the age-old problem of alert fatigue but also deliver transparency into machine learning models for IT event management," Fisher wrote. 
More information is available here.