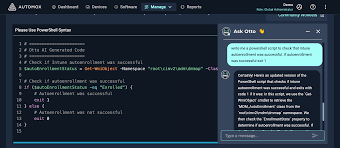 Cloud-based IT automation platform Automox has introduced Otto AI, which applies generative artificial intelligence to IT operations and systems management. 
Otto AI allows IT professionals to automate tasks across a broad range of systems —  including Windows, macOS, and Linux — simply by giving commands in plain English.
"Otto AI is a game-changer for IT automation," said Tim Lucas, CEO of Automox. "Our customers have been asking for a solution that could help them automate mundane tasks and give them time back to do more important work. Now they can Ask Otto to create powerful Worklets instantly to automatically patch, manage, and configure every endpoint."
IT automation at scale offers considerable benefits to businesses, such as improved productivity, efficient management of IT infrastructure, and minimized risk. However, a significant skills gap in IT operations hinders many organizations from leveraging this effectively. 
Gartner reports that "insufficient skills" are the primary concern for 30% of IT organizations over the next year. Moreover, according to the 2022 Global Knowledge IT Skills and Salary Report by Skillsoft, 66% of IT decision-makers face critical skills shortages in their teams, leading to increased stress, longer delivery cycles, and a diminished capacity to achieve business goals.
Otto AI is available now to Automox Complete customers as a free preview and will be made available as an upgrade later this summer.