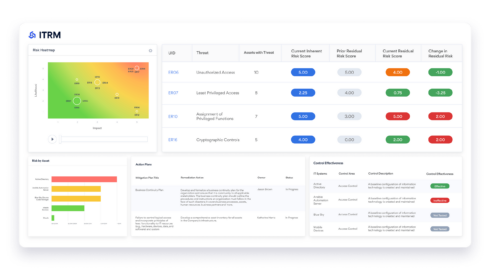 AuditBoard unveiled its ITRM solution dedicated to IT Risk Management. This offering empowers IT security and risk management experts to efficiently handle their threat landscape, assess IT-related risks, and enhance cyber resilience. 
By adopting this solution, organizations can effectively adapt to the ever-changing and expanding landscape of business risks. The announcement coincides with the upcoming IT Risk Now virtual conference organized by AuditBoard, where leaders in IT risk management from various industries will convene online to share insights and expertise.
"CISOs and their teams are facing unprecedented levels of cybercrime and IT risk as they guide their organizations through today's digital-first business environment," said Rajiv Makhijani, SVP of Emerging Products at AuditBoard. "We've purpose-built AuditBoard ITRM to help customers more easily manage this critical work and improve their cyber resilience."
AuditBoard ITRM enables effective collaboration between IT security, and other functions in the business to accelerate the identification and classification of IT systems, perform business impact assessments, and remediate identified issues. The solution also enables CISOs to more effectively report on IT risk in financial terms to the CFO and the board, helping to drive business alignment and unlock investments.
Additional details on the solution and event are available here.