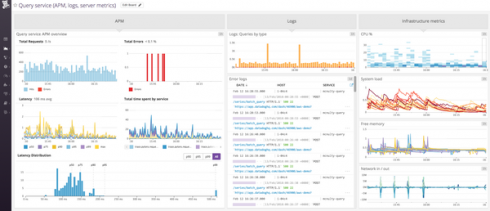 Datadog has announced the release of Datadog Log Management. This will allow customers to monitor and analyze logs from all their systems, covering troubleshooting, auditing, visualization, and alerting.
"All Datadog customers can now correlate infrastructure metrics and application traces with relevant logs for quicker detection of issues," said Renaud Boutet, product director at Datadog. "This level of seamless pivoting between different sources of data is completely new and will help our customers dramatically improve the time to problem resolution."
Highlights of the service include a quick installation via a hosted SaaS solution, powerful query language, real time alerts, user defined indexing and archiving policies for cost optimization. Also, the service includes customized processing and analytics pipelines, and rich exploration and visualization capabilities.
"We have various Amazon Web Services (AWS) solutions, containers, servers and applications to monitor. Infrastructure metrics and logs often work together to tell the full story of what's happening within an application, so we find ourselves continuously jumping from Datadog to another third-party log management solution to connect the dots – an integrated solution native to Datadog is a tremendous gain of productivity." said Fabien Jallot, head of DevOps at 24 Sèvres, platform for online shopping.
Other features include automatic grouping and correlation of monitoring data, enhancement to the company's artificial intelligence, and enrichment of log data from cloud platforms and infrastructure components.