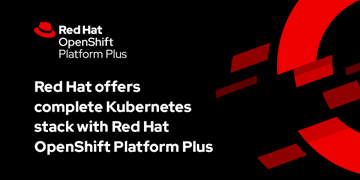 Red Hat announced a new iteration of OpenShift Platform Plus, which simplifies the Kubernetes stack and includes capabilities that improve storage, management and more.
OpenShift Platform Plus includes Red Hat's latest tools for managing the entire SDLC across Kubernetes clusters, including Red Hat OpenShift 4.11, Red Hat Advanced Cluster Management for Kubernetes 2.6, and Red Hat OpenShift Data Foundation 4.11.
Organizations can scale operating environments and use enterprise Kubernetes by using Red Hat OpenShift 4.11, based on Kubernetes 1.24 and CRI-O 1.24 runtime interface. New features in this tool include Pod Security Admission integration to define different isolation levels for Kubernetes pods and  installer-provisioned infrastructure support for Nutanix. OpenShift 4.11 can also be used to run sandboxed containers on AWS as well as on single node OpenShift.
The new Red Hat Advanced Cluster Management 2.6 focuses on improving availability in high latency, low bandwidth use cases. A single hub cluster can now deploy and manage up to 2,500 single-node OpenShift clusters and work in tandem with integrations like OpenShift, Red Hat Ansible Automation Platform, and Kyverno PolicySet. 
"As organizations turn to modern applications to deliver better, more dynamic user experiences, they need a platform that delivers consistency, whether it's a traditional application in a datacenter to containerized-workloads spanning the edge and multiple public clouds," said Joe Fernandes, vice president and general manager of Platforms Business Group at Red Hat. "With today's updates, Red Hat OpenShift Platform Plus remains positioned to provide this consistent foundation along with a comprehensive set of integrated tools for enhanced management, improved data resiliency, and a stronger security posture."