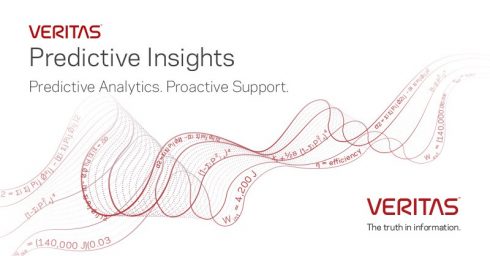 Veritas Technologies today launched its Predictive Insights engine, a solution that leverages artificial intelligence and machine learning for monitoring the health of systems, detecting anomalies and creating proactive remediation to reduce downtime.
Unforeseen events lead to downtime that has cost organizations roughly $21 million per year, according to Eric Seidman, director of solution marketing at Veritas. Predictive Insights gives Veritas appliances "more resilience, being able to reduce unplanned downtime as well as downtime associated with maintenance, and a key capability is providing the customer with an increased level of operational efficiency," he said. This, according to Seidman, lets IT staff focus on business operations and "less on the fatigue that can be generated from managing and supporting thousands of event alerts in a particular environment."
Predictive Insights' operational model was created using three years of telemetry from thousands of Veritas appliances and with input from the service team, Seidman explained. It differs from traditional application performance management because Predictive Insights expands the view of the whole customer environment beyond the incident that's occurring through its proactive monitoring capability that can look into the future and see where problems are likely to occur. "It will look at the problem, but also, for example, might suggest installing a patch" that could prevent other problems, he said.
Seidman explained that when Veritas was building out Predictive Insights, the company looked at the kinds of support and maintenance issues that their customers were experiencing, and put them into three buckets: business trends, including forecasting capability; preventable factors and prevention of unforeseen events.
In the business trends area, Seidman said, "There are customers that were just not able to do well at planning their capacity requirements in the future, and that was causing some downtime events and other problems in their environment."
Downtime from preventable factors, he explained, can stem from things like adopting firmware or missing patches.These, he said, "are not necessarily acute on their own but they built up over time, and often times they became ignored just because they weren't a priority event that needed to be taken care of, and the accumulation of those can cause unplanned downtime."
Unforeseen events, like environmental anomalies in the data center, or a component failing, also can lead to unplanned downtime, he added.
The Predictive Insights engine is available on Veritas NetBackup appliances; its Access and Flex appliance will gain the capabilities in the future. Telemetry is collected from those appliances and processed in the Predictive Insights engine to calculate a system reliability score that support teams can use to take steps to improve performance.
Seidman added that the solution also attaches a score to recommended remediation actions, so that IT staff can see which problem the AI/ML engine believes is most important to address right away.
Dashboards that represent the data coming from the engine will be initially be available for internal use only for service personnel and accounts teams at Veritas; it will be exposed to customers in their support portal in the next two or three months, Seidman explained. It's being held back, he said, so the company "can assure that the predictive results that we're getting from it and the actions that we're taking are having positive impact for our customers. We're assuming it will be; we want to be confident in that."