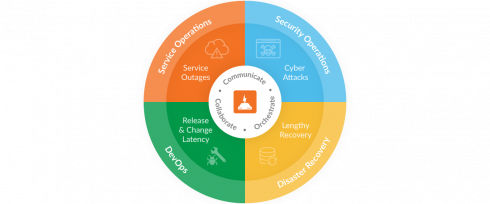 Everbridge, Inc., the global leader in critical event management and incident response automation, today announced the integration of its IT Alerting solution with Cherwell Software, a global leader in enterprise service management. The combined solution provides Cherwell Service Management (CSM) users with a full end-to-end Incident Response Management platform to enable significant and measurable reduction of IT response engagement times to as low as five minutes from well over 30-40 minutes. The integration will help Cherwell customers leverage the Everbridge platform to manage, control and automate the communication, collaboration and orchestration by IT teams to resolve major incidents faster, while minimizing the impact on business.
"We are pleased to be working with Everbridge as one of a growing number of Technical Alliance Partnerships," said Matthew Peeples, Vice President of Strategic Alliances, Cherwell Software. "This partnership enables joint customers to communicate, collaborate and resolve incidents faster, saving businesses critical time and limiting IT service disruption."
Once an IT event is detected and categorized as a major incident in Cherwell Service Management, Everbridge's Smart Routing functionality allows multi-modal targeted notifications to be sent automatically to the right IT team(s) and key stakeholders, while offering proactive notification to potentially-impacted business users. Unlike mass emails, the system cycles through SMS, voice calls, and push notifications for each contact until people respond. In the case of no response, alerts are automatically escalated to the next person in line or to management to ensure that no alert is ever missed. Collaboration and incident response synchronization are also accelerated and integrated with Everbridge's Smart Orchestration capability. IT resolvers can be assembled on a conference bridge or joined to a ChatOps in one-click, wherever they might be. This eliminates the need to send web invitations, dial-in numbers, access codes, or caller IDs. Furthermore, Smart Orchestration allows IT teams to connect services with minimal effort or human interaction to execute the remediation processes in a controlled and error-free fashion.
"We are looking forward to delivering the best value to our customers by helping them optimize and continuously improve their end-to-end incident response management," said Prashant Darisi, Vice President of Product Management, IT Alerting/IoT at Everbridge. "The Everbridge-Cherwell integration powers Cherwell's IT Service Management (ITSM) suite with the best-of-breed Smart Orchestration platform to significantly enhance the benefits and efficiencies for enterprises as they respond to critical events."
Everbridge IT Alerting augments Cherwell Service Management with communication, collaboration and orchestration capabilities, including:
Multi-modal, custom-tailored targeted notifications for different stakeholders
Automatic functional and management escalations
Workforce on-call schedules
1-click smart conferencing from notification, 1-click ChatOps channel
Conference call recording
Automated response workflows for fast and controlled remediation
Team response performance reporting and audit trail
Several organizations are already leveraging the Everbridge and Cherwell integrated solution, and both organizations will engage together with their existing customers to help enterprises maximize the combined offering.
To learn more about Everbridge IT Incident Response Automation, visit www.italerting.com.