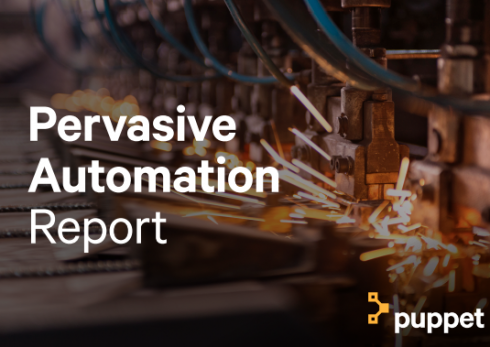 Across the board, organizations are finding that automation is a strong competitive advantage to business success, but many IT barriers still remain. In a newly released report by Puppet, the company found that while visibility into an organization's IT estate is key to automation, enterprises are still struggling.
The Pervasive Automation Report found respondents don't know where their software is running. Less than half of respondents knew their software was running in the public cloud while only 54 percent knew whether their software was running in a containerized environment and only 59 percent knew their software was running in a traditional environment. Additionally, the report found respondents who stated they were in organizations of 10,000 or more employees stated they have low level of confidences when it comes to their knowledge of  security, cloud spend and hidden costs of shadow IT.
"We can easily imagine how automation impacts the business — helping development and operations teams innovate faster, achieve strategic objectives, and build value. However, measuring the breadth and depth of automation at an organization with complex applications and dispersed IT infrastructure has been a challenge," the report stated.
Despite the challenges, respondents did indicate high levels of infrastructure automation throughout their software delivery lifecycle. Top areas where automation is being applied include security and compliance reporting, network configuration, storage configuration, moving workloads, and system testing. According to the report, small to mid-sized companies have higher levels of automation while no more than 50 percent of respondents from larger organizations found any individual process is fully automated. "This data begs the question, do organizations have the tools needed to bridge Dev and Ops at scale, sustainably?," according to the report.
The report also asked respondents to indicate their top barriers to automation. The top three challenges found were legacy systems, siloed teams and lack of visibility into IT estate.
"Much like DevOps itself, pervasive automation is equal parts process, tooling, and culture. Taking the journey represents a collective commitment by the entire organization, one where the goal is realizing the competitive advantage offered by software automation. Leadership builds the strategy, managers plan how to get there, and then it's up to the teams to sustain an ongoing effort," the report stated.