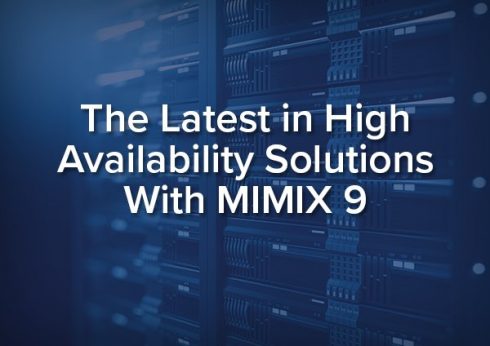 Syncsort has announced the latest release of MIMIX, its high availability and disaster recovery solution for IBM i. The new features are intended to address key IT challenges for assuring data and application availability, according to the company.
The new MIMIX release includes an improved replication, a new responsive dashboard and on-demand visibility, "set and forget" integration with enterprise-monitoring consoles, and data distribution capabilities.
"Faced with exploding data volumes, disruptive natural disasters and escalating storage and data accessibility needs, IT organizations are under increased pressure to optimize data and application availability," said David Hodgson, CPO for Syncsort. "For this reason, we continue to focus on innovating in areas of high availability and disaster recovery to support critical business metrics like RTO and RPO."
According to the company, the multi-threading capabilities in the IBM operating system are leveraged to scale to the highest transaction volume, replicating data up to 10 times faster. In addition, it provides dynamic adjustments to eliminate the need to manually tune performance.
The new dashboard provides insights into recovery time object and recovery point objective networks and summarizes key aspects of the HA environment. It is accessible from any device, which includes tables and smartphones, the company explained.
By providing support for SNMP alerts, it enables automatic monitoring by incorporating alerts on conditions that require attention into an infrastructure monitoring console of choice
"The coming year promises to be no less turbulent that the last. Systems will fail. Mother Nature will wreak havoc and cause disruption. Humans will make errors and some will intentionally seek to do harm. IT Professionals, entrusted by their companies to ensure continuous availability of data and applications, place a high priority on protecting their business from downtime and ensuring they meet SLAs and regulatory requirements," John Dunn, senior product manager at Syncsort, wrote in a post.