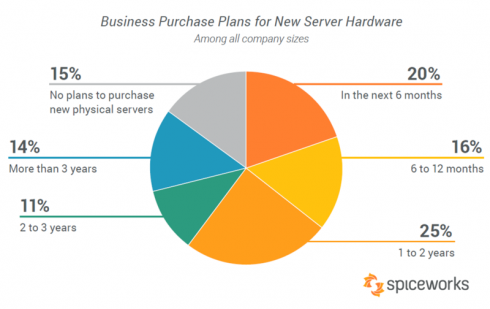 Despite a rise in cloud-hosted websites, apps and services, on-premises servers are still a completely essential part of modern businesses, a recent survey found. IT industry professional network company Spiceworks has released its 2019 State of Servers report where it found a number of factors that are contributing to the popularity of on-premises servers.
The survey is based on responses from 530 "IT buyers" from a range of company sizes and industries across North America and Europe. According to the report, 98 percent of businesses surveyed currently run on-premises services and 72 percent plan to purchase new server hardware within the next three years.
"While many workloads are shifting to the cloud, on-premises server hardware continues to be vital to the workplace, and the vast majority of businesses plan to buy servers for the foreseeable future, even if they're also taking advantage of the cloud," said Peter Tsai, senior technology analyst at Spiceworks. "Additionally, thanks to competition in the market, businesses can expect continued advancements and access to a wealth of server infrastructure and component options."
Enterprises were the most likely to buy more hardware overall at 68 percent, compared with 34 and 30 percent of mid-sized and small businesses. The most common factor in decisions to buy was company growth across the board, with 50 percent of companies reporting it as their number one reason. Other reported reasons were performance degradation, reliability issues, hardware failure, maintenance costs, server OS end-of-life, warranty expiration and tech replacement policy.
"The smallest businesses, which also tend to have the smallest IT budgets, are more likely to use their server hardware until the bitter end, waiting until hardware failure or reliability issues prompt new server hardware purchases," Tsai wrote in the report.
The most common brand represented in these sales is Dell at 68 percent, with Hewlett-Packard Enterprise at 46 percent, Cisco at 15 percent, IBM at 12 percent and Lenovo at nine percent. Almost half (48 percent) of those will come from direct sales through the manufacturers, while value-added resellers will account for 26 percent of sales, 18 percent will come from managed service providers and one percent will come from brick-and-mortar retail.
Value-added resellers were particularly popular among enterprises, while MSPs were relatively more popular for small businesses, which Tsai attributes to availability of specialized IT personnel.
"Additionally, prior research has told us that more often than not, companies tend to opt for higher-end, higher-margin servers when buying new — which is good news for hardware manufacturers and resellers," Tsai wrote.
Spiceworks' survey also noted growth in AMD's share of the server processor market, with expectations that in the next three years, AMD usage will increase to 21 percent from 16 percent at present. Currently, 93 percent of server processors are Intel. Tsai attributed the growth to the much higher price-to-performance rating that the surveyed professionals gave AMD's hardware, with 77 percent associating the brand with "value-for-money" as opposed to 43 percent for Intel.
"This finding, combined with buzz around AMD's EPYC processor and AMD's future 7nm processor roadmap may explain why more businesses are willing to give AMD a try going forward," Tsai wrote.
The trend of SSD adoption in servers also continued with a 10 percent increase — from 62 to 72 percent — in usage expected by next year.
"SSDs are also increasingly finding their way into external storage," Tsai wrote. "Currently, 18 percent of businesses use hybrid storage arrays that make use of both SSDs and spinning hard drives, while 14 percent use all-flash storage arrays. However, as SSDs become more popular, we expect usage of all-flash storage arrays to surpass use of hybrid flash arrays within the next two years."
Combined with the growth in cloud adoption, the health of the on-premises server market leaves a great opening for hyperconverged infrastructure, which offers "the promise of a single turnkey solution that combines server, storage, networking, and virtualization technology in a scalable, easy-to-manage package," and hardware-as-a-service offerings, Tsai concluded.
"According to our survey, 46 percent of organizations plan to use hyperconverged infrastructure solutions by 2020, up from 38 percent today," Tsai wrote. While the high startup costs of HCI means it's more likely that larger organizations jump to adopt the tech earlier, 35 percent of enterprises, 31 percent of mid-sized and 19 percent of small businesses reported using the popular Dell EMC HCI solution.