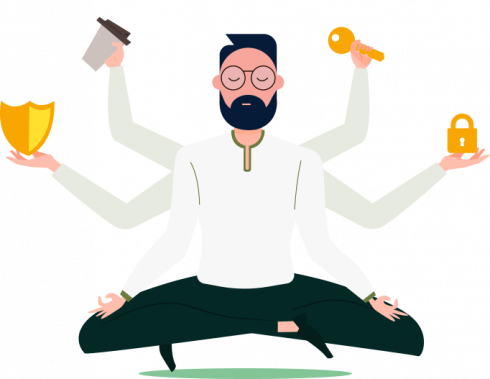 ManageEngine, the real-time IT management company, today announced that ADSelfService Plus, its integrated Active Directory (AD) self-service password management and single sign-on solution, supports self-service password management for Linux end users. Now, ADSelfService Plus allows end users to reset their passwords and unlock their accounts in AD from the login screen of Linux machines.
When end users forget passwords, their productivity is affected because of how long it takes the technician or admin to verify identities and reset passwords. According to Forrester, a single password reset ticket could cost an organization as much as $70. To avoid this cost, organizations must give end users an option to quickly reset their passwords on their own, without depending on the help desk. This option must be available where users most often realize that they have forgotten their passwords — the login screen of desktops or laptops, irrespective of the platform they use.
"Password resets are one of the major sources of help desk tickets and often end up being the most expensive burden for the IT department. A self-service password management solution can address this issue, but it will only be effective if it's accessible to all users in an organization — irrespective of the computer or mobile platform they use," said Parthiban Paramasivam, director of product management, ADSelfService Plus. "The latest version of ADSelfService Plus provides end users the flexibility to reset their passwords from their Linux machines, in addition to Windows, macOS, and mobile devices that run on Android and iOS. This ensures that all users have access to the self-service password reset capability 24/7."
Highlights of Self-Service Password Management for Linux
The new feature adds a Reset Password link on the login screen of the Linux machines. Clicking this link will open a password reset wizard, through which end users can quickly and securely reset their Windows Active Directory passwords. With ADSelfService Plus, organizations now have a cost-effective way to decrease the number of password-related tickets and reduce the burden on the help desk, all while keeping end users productive. Some other highlights of self-service password management for Linux in ADSelfService Plus include:
Support for multi-factor authentication techniques, including email-based OTP, SMS-based OTP, Duo Security, RSA SecurID, Google Authenticator, and biometric authentication, for enhanced security.
Ability to notify end users and IT admins through email and SMS, and automatically create a ticket in a help desk solution after a successful password reset.
Real-time password synchronization support to sync passwords across Active Directory, Office 365, G Suite, Salesforce, and other enterprise applications.
Support for password blacklisting and other advanced password policy settings.
Audit reports to monitor who is using the self-service functionality, from where, and when.