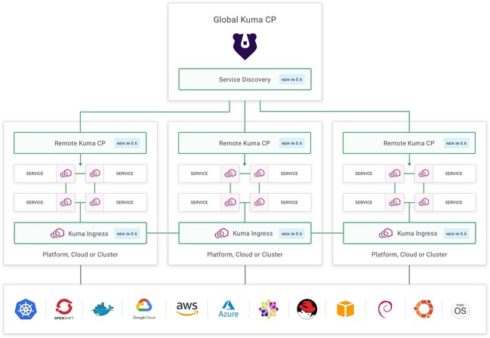 Kong has announced a significant upgrade to its open-source universal service mesh. Kuma 0.6 features a "hybrid universal mode" that will enable the service mesh to support complex applications in heterogeneous environments such as VMs, Kubernetes clusters, and multiple data centers. 
With the new release, Kong also announced it will be donating Kuma to the Cloud Native Computing Foundation (CNCF). The project will join CNCF as a Sandbox project and the foundation's first Envoy-based control plane for service mesh.
"When Kong open sourced Kuma last year, our ultimate goal was to donate it to the CNCF, where it can serve the most good in the community and benefit from the brightest developer minds," said Marco Palladino, CTO and co-founder of Kong Inc. "The industry needs and deserves to have a cloud native, Envoy-based control plane that is open and not governed by a single commercial entity. From a technology standpoint, it makes no sense for individual companies to create their own control plane but rather build their own unique applications on proven technologies like Envoy and Kuma."
According to Kong, in previous releases of Kuma the project featured a simple universal mode with a flat networking requirement. This was good for greenfield environments, but not ideal for enterprises with complex networks composed of legacy and new application infrastructure. The new hybrid universal mode addresses it with the ability to implement and derive value quickly from service meshes. 
"A service mesh is more valuable as the number of services grows. Managing an enterprise network with new and old applications running on both new and old platforms, combined with a rapidly growing number of service-driven applications, presents technology leaders with an overwhelming task fraught with hidden risks, limited visibility, and insecure and unreliable connection points that are hard to pinpoint," said Palladino.
Other features of the 0.6 release include:
Automated service connectivity
Advanced control plane replication
New ingress data plane resource
DNS service discovery
Hybrid multi-mesh support