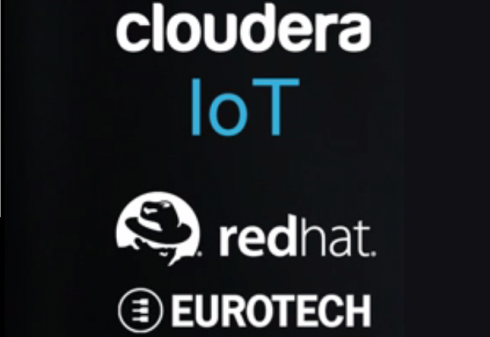 Cloud-optimized machine learning and analytics platform developer Cloudera is teaming up with industrial embedded hardware company Eurotech and open-source giant Red Hat to develop a modular, vendor-agnostic, and open-source architecture and standard for deploying  IoT-connected devices at the enterprise level by combining their technologies.
According to the companies, organizations are finding themselves limited to founctionaity, locked into vendors and unable to scale. The companies hope their new solution will help provide the foundational components necessary to roll out IoT use cases in a quick and secure manner.
The collaborative solution will consist of these combined parts, according to the announcement:
"Intelligent IoT edge stack with Eurotech Everyware Software Framework (ESF) and Red Hat middleware to support device connectivity, data ingestion and control, intelligent routing, and enable analytics at the edge
IoT integration hub with Eurotech Everyware Cloud (EC) and Red Hat middleware running on OpenShift Container Platform, to effectively onboard and manage connected disparate devices, enable access control and authentication, control the operational flow of data downstream, and operate distributed container-based IoT applications
Data management and analytics platform, based on Cloudera Enterprise, for IoT data processing, persistent storage, analytics, and machine learning to enable deeper business insights and actionable intelligence
Application development and delivery environment for development, deployment, and integration of cloud-native applications enabled by Red Hat OpenShift Container Platform"
The companies aim for their solution to have a wide variety of use-cases across industrial and enterprise IoT, and can run in cloud, hybrid-cloud or on-premises environments for portability and independence from proprietary cloud technologies.
"Open standards and interoperability, already important to helping solve IoT connectivity and data integration issues, are even more important as enterprises face the challenge of more efficiently delivering more secure and scalable IoT solutions in hybrid and multi-cloud environments," Jered Floyd, technology strategist at Red Hat. "With the launch of this end-to-end architecture with Cloudera and Eurotech, we are helping IoT customers address that challenge while enabling cloud-provider choice."