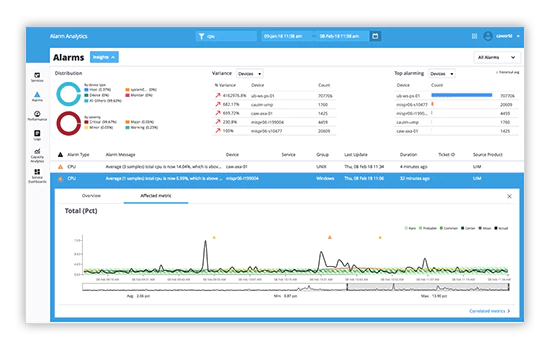 CA Technologies revealed a new advanced analytics solution at its second annual Built for Change Summit this week. The new solution is designed to help ITOps teams gain meaningful insights with minimal effort.
The CA Digital Operational Intelligence solution uses machine learning to automatically ingest cross-domain data from IT operations tools. It is powered by CA Jarvis and uses algorithmic intelligence to identify root causes as well as measure and improve business service levels. It features service-centric analytics, algorithmic noise reduction and correlation, predictive capacity analytics, and visualization and correlation capabilities.
According to the company, the solution has helped organizations improve mean time to repair by 60 percent and reduce false alerts by 80 percent.
In addition, the company announced an update to its CA Automic One Automation Platform. The latest release is designed to help Ops and DevOps through the lifecycle management of automation artifacts, intelligent critical-path management, and support for PostgreSQL.
"Leveraging the vast amounts of data generated to glean actionable insights that drive business impact is an ongoing challenge. Adding to the complexity of the issue is being able to use the data in modern architectures that use APIs and microservices for new and improved services and offerings. To address this challenge, CA is giving customers the ability to derive and apply deep insights for machine learning and artificial intelligence that helps with more accurate planning, as well as predictive modeling, and real-time remediation to operational issue," the company wrote in an announcement.