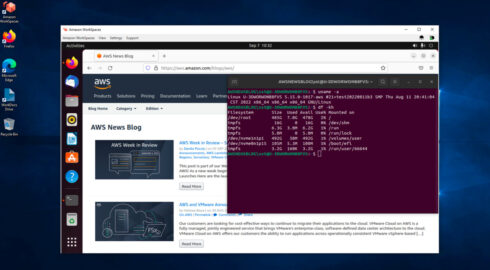 The team at Amazon recently announced that Ubuntu desktops can now be provisioned for developers, engineers, or data scientists. With this, virtual desktop users are enabled to have more choices as well as gain access to new categories of workloads. 
Support for Ubuntu also offers virtual desktop administrators a consistent experience regardless of whether they are managing Windows or Linux-based desktops for their workforce. 
According to Amazon, providing Ubuntu desktop on WorkSpaces offers developers and engineers a familiar and compatible environment. This allows them the option to work from anywhere.
Additionally, this offers access to several open-source tools and libraries in fields such as data science, AI/ML, cloud, and IoT.
"We've brought Ubuntu Desktop to WorkSpaces so developers can streamline the design, coding, pipelines, and deployment of Ubuntu-based workloads, whether instances or containers, all within the AWS environment," said Alex Gallagher, VP cloud for Canonical. " Also, Ubuntu virtual desktops on WorkSpaces enable IT organizations to quickly and easily provision high-performance Ubuntu Desktop instances, delivered as a fully managed AWS service. In the face of constant and increasing pressure to support the security and productivity needs of hybrid workers, that's a win for IT organizations and their end users."
To get started, IT administrators can choose the hardware bundle, with different size options of CPUs and memory, depending on the user's needs. 
Workspaces are bound to an Active Directory. Users have the option of using their on-premises AD or a fully managed directory service in the cloud.
For more information, click here.