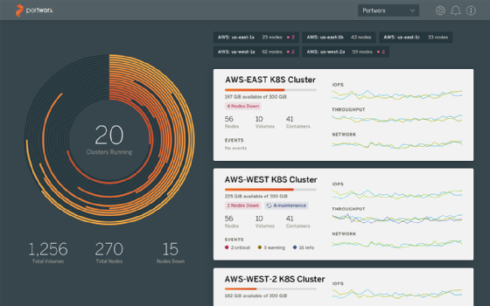 Pure Storage's acquisition of Portworx for $370 million in cash will create a Kubernetes data services platform for cloud-native applications.
Portworx is a platform that provides persistent storage, high availability, data protection, data security, and cloud mobility for containers deployed in hybrid cloud architectures.
"By combining Portworx container data services with Pure's industry-leading data platforms and Pure Service Orchestrator software, Pure will provide a comprehensive suite of data services that can be deployed in-cloud, on bare metal, or on enterprise arrays, all natively orchestrated in Kubernetes," Pure Storage wrote in a post.
As cloud-native scales, traditional and cloud-based storage can struggle to keep up with the fluid nature of microservices deployed in containers, making data resiliency, mobility, security, backup, and recovery a challenge, according to the company.
Pure Storage aims to fix this problem with a storage services platform purpose built to address these challenges.
"I'm tremendously proud of what we've built at Portworx: an unparalleled data services platform for customers running mission-critical applications in hybrid and multi-cloud environments. The traction and growth we see in our business daily shows that containers and Kubernetes are fundamental to the next-generation application architecture and thus competitiveness," said Murli Thirumale, the CEO of Portworx. "We are excited for the accelerated growth and customer impact we will be able to achieve as a part of Pure."