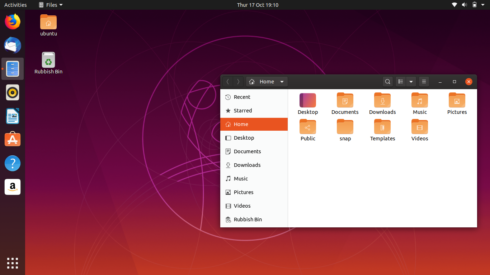 The latest version of the open-source Linux distribution Ubuntu is now available. Version 19.10 comes with a strong focus on Kubernetes and the edge.
Canonical has added strict confinement to MicroK8s — is zero-ops Kubernetes solution. According to the company, this will provide enhanced edge computing capabilities and ensure isolation and secure Kubernetes environments. Users can extend MicroK8 with Istio, Knative, CoreDNS, Prometheus and Jaeger.
The release also comes with Raspberry Pi 4 Model B support, which features an improved system-on-a-chip, process, and the Cortex-A72 architecture.
To improve the experience of multi-cloud infrastructure, the Ubuntu 19.10 release features the Train release of Charmed OpenStack. "This marks Canonical's long-term commitment to open infrastructure and improving the cost of cloud operations," Canonical wrote in a post.
The Train release features live migration extensions that can:
Aid telcos in infrastructure operations
Enable users to move machines across hypervisors without having to show down their operating systems
Support for telco-specific environments
Lastly, the release also new artificial intelligence and machine learning capabilities. With Kubeflow as an add-on to MicroK8s, developers can now set-up, build, test and scale easier.
"With GNOME 3.34, Ubuntu 19.10 is the fastest release yet with significant performance improvements delivering a more responsive and smooth experience, even on older hardware. App organisation is easier with the ability to drag and drop icons into categorised folders, while users can select light or dark Yaru theme variants depending on their preference or for improved viewing accessibility," Canonical wrote.