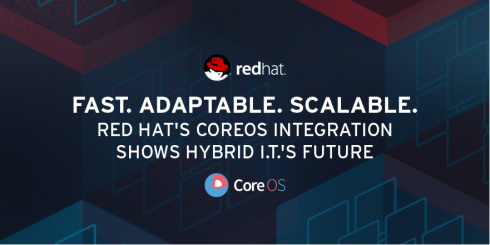 Red Hat plans to expand its Kubernetes portfolio with new CoreOS integrations. CoreOS is a Kubernetes and container-native solution provider that Red Hat acquired earlier this year. The company announces its first steps for integration CoreOS Tectonic, Quay and Container Linux with Red Hat's container and Kubernetes-based solutions at the Red Hat Summit in San Francisco this week.
According to the company, integration of CoreOS' technologies with Red Hat's container infrastructure offerings such as OpenShift Container Platform will help clear a path towards hybrid cloud environments.
"We strongly believe that the integration of CoreOS' automation technologies with Red Hat's powerful infrastructure solutions will redefine the hybrid cloud, meshing the simplicity of public cloud deployments with the enhanced security of private cloud computing. Previously, enterprises had to choose between public cloud lock-in for ease-of-use or managing the complexity of a hybrid IT environment to retain full control over workloads and data," said Ashesh Badani, vice president and general manager of OpenShift for Red Hat.
Tectonic is CoreOS' enterprise Kubernetes solution. It will be integrated with the Red Hat OpenShift Container Platform to automate operations. According to the company, this will help make deployments at scale easier and lessen the need for constant cluster oversight.
CoreOS Quay is an enterprise registry solution that will integrate with Red Hat to give users more container registry options. Quay features automated geographic replication, integrated security scanning with Clair, image time machine for viewing history, and performs rollbacks and automated pruning.
Container Linux provides key features of a container-native operating system. With its Red Hat integration, the solution will provide an automated container host as well as content options from the Red Hat Enterprise Linux and Fedora ecosystem.
In addition, the company announced the OpenShift Container Platform will use the Operator Framework to help ISVs bring cloud services to the hybrid cloud and avoid cloud lock-in. The Operator Framework is an open source toolkit for managing Kubernetes native apps in a automated way. Red Hat created the Operator Framebook based on CoreOS' concept of operators within Kubernetes.
"Now, Red Hat OpenShift Container Platform settles this argument, delivering automation across the entire container stack, from the underlying operating system to the application services, to make hybrid IT easier to consume while retaining enhanced security, driving a new model for how enterprises perceive the open hybrid cloud," said Badani.