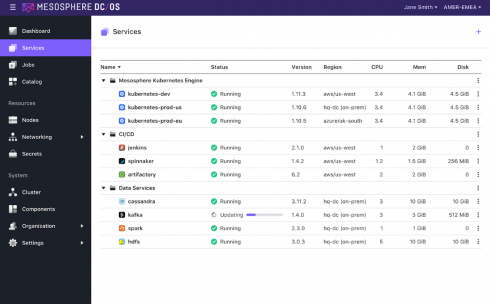 Multi-cloud automation platform provider Mesosphere announced a number of updates focused on Kubernetes, running data at scale, and machine learning initiatives. The company announced Mesosphere Kubernetes Engine (MKE), Mesosphere DC/OS 1.12 and Mesosphere Jupyter Service (MJS).
As of this week, MKE is now generally available. The solution is designed to deliver Kubernetes-as-a-service on multi-cloud and the edge without virtualization. "This proliferation of Kubernetes clusters across public, private and edge infrastructure has resulted in numerous unique solutions, many of which fall outside the visibility of central IT. The result is increased infrastructure and operational costs, increased security risk, and dependency on specialized hard to find talent," Edward Hsu, vice president of product and product marketing at Mesosphere, wrote in a blog post.
MJS delivers Jupyter Notebooks to allow data scientists to streamline the building and delivering of AI services.The solution is available this week as a public beta. "It all starts with the data, which The Economist proclaimed is the new oil.  If data is the new oil, then machine learning is the process of extracting and refining the oil so it becomes useful," wrote. MJS features Jupyter Notebooks-as-a-service, collaboration capabilities, and machine learning acceleration features.
Mesosphere DC/OS 1.12 is an enhanced cloud platform for running traditional, cloud-native, data-driven apps on multi-cloud and edge infrastructures. The latest version comes with improvements for multi-cloud operation security, performance and real-time operational visibility.
Florian Leibert, Mesosphere CEO, said in a statement that "by natively integrating Kubernetes and Jupyter into DC/OS, we're able to deliver fast deployment and centralized management for businesses to readily adopt the latest enterprise technologies across any infrastructure, while still enabling experimentation and providing developer choice."