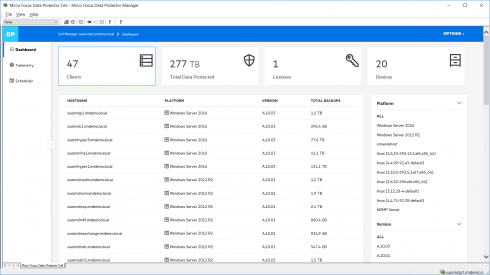 Software and IT company Micro Focus announced the launch of Data Protector Express and Data Protector Premium today. Both are new forms of its enterprise-grade backup and disaster recovery solution targeted at virtualized and hybrid cloud environments respectively.
Data Protector Express features socket-based pricing, the company says, tailored towards virtual environments. The company highlighted the following capabilities of the platform in its announcement.
Agent-less protection for both VMware and Hyper-V workloads
Advanced VM recovery capabilities
Integrated reporting and analytics
Data Protector Premium is the more universal and overarching version of the platform, meant for enterprises using mixed physical, virtual and multi-cloud workloads. Highlighted features in the announcement include:
Integration with leading IT operations tools, including Micro Focus Business Value Dashboard and Operations Orchestration products
Integrated reporting and analytics for deep insights that help organizations reduce cost and complexity of backup operations
Native integrations with applications and infrastructure for high-speed backup and recovery at the highest level of integrity
Integrations with leading Cloud providers that enable organizations to move secondary data to the cloud of their choice
"A key use case of Data Protector Premium is industry-scale mission-critical SAP environment protection," the company wrote in the announcement. "As an SAP-certified solution, it provides application-consistent protection for both SAP and SAP HANA applications deployed on single and multi-node cluster deployments."
Micro Focus hopes companies will benefit from the flexible nature of having tailored versions of the solution available to them.
"There is really no room for error when it comes to protecting corporate data, and there is a very finite budget and set of resources for doing so," Balaji Venkatraman, senior director, PM and R&D at Micro Focus, said in the announcement. "Our customers face this challenge on a daily basis as they work through daily location and storage challenges, outages, breaches, data theft and more. Those considerations define our latest Data Protection solutions – they ensure that customers have the security, speed, control and flexibility to protect data wherever it resides within a hybrid IT environment and at a lower TCO than ever before."