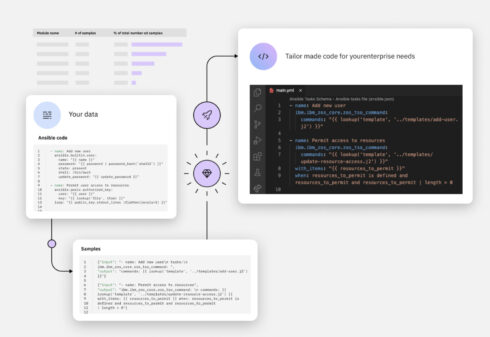 IBM watsonx Code Assistant for Red Hat Ansible Lightspeed simplifies Ansible Playbook creation with AI-generated content recommendations. It's designed to enhance IT automation by enabling IT users to create requests through plain English text prompts, from which it generates syntax-correct and contextually relevant content that can be used by the system. 
In a pilot program, users saw productivity gains of 20-45%, with 60% of Ansible Playbook content being generated from AI recommendations, IBM claimed.
RELATED CONTENT: IBM launches watsonx Code Assistant for Z to help with modernizing COBOL applications
Users can simplify the process of generating Ansible Playbooks by using natural language inputs in the Ansible Task description, integrate AI-content recommendations into IDEs, and get transparency into the potential sources used in training data for content recommendations, including the author and license. 
With IBM watsonx Code Assistant for Red Hat Ansible Lightspeed, users can enter plain English prompts to automatically generate task recommendations for Ansible Playbooks. This way, a greater number of team members can create Ansible Playbooks more efficiently and implement automation, no matter their skill set. 
"The release of watsonx Code Assistant for Red Hat Ansible Lightspeed has the potential to close skills gaps, create greater organizational efficiencies and free enterprise IT to deliver even more business value," said Ashesh Badani, senior vice president and chief product officer, Red Hat.
Additional details are available here.