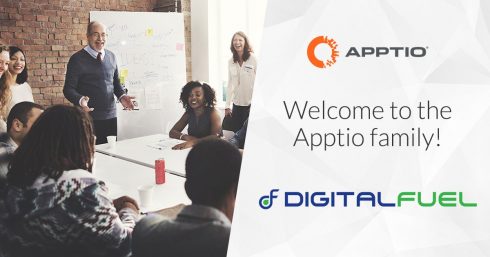 Apptio, Inc., the business management system of record for hybrid IT, today announced it has completed the acquisition of Digital Fuel SV, LLC, a provider of IT business management (ITBM) tools. With the acquisition of Digital Fuel from global investment firm Skyview Capital, Apptio further extends its leadership of the $6 billion Technology Business Management (TBM) market. Today's acquisition broadens Apptio's customer base across both strategic and enterprise segments in the Global 10,000 and adds new product capabilities.
With this move, Apptio's cloud-based applications will help more than 550 licensed customers manage, plan and optimize their technology investments across on-premises and hybrid IT environments. This acquisition will also provide opportunities to deepen Apptio's integrations with leading financial, service management, systems management, and public and private cloud vendors. Now, Apptio's more than 800 employees are solely focused on helping CIOs, IT finance leaders, and infrastructure and operations professionals manage the business of IT.
"Since Apptio's founding in 2007, we've been deeply committed to creating a long lasting software category relevant to every organization, regardless of size or geography," said Sunny Gupta, CEO of Apptio. "We are invested in the ongoing success of Digital Fuel customers and our combined customer base will have access to the most advanced innovation in TBM. Additionally, our partnership with the nonprofit TBM Council will provide unparalleled industry support to help ensure every customer's success."
Digital Fuel was founded in 2000 as a service level management provider and expanded in 2008 to include IT financial management solutions. In 2011, Digital Fuel was acquired by VMware and integrated with VMware's cloud management and infrastructure products to help provide customers with transparency and control over costs and quality of IT services. In 2016, Digital Fuel was acquired by private investment firm, Skyview Capital.
As part of the Apptio family, Digital Fuel will operate as an independent business unit with continued support and investment for the Digital Fuel product line. Digital Fuel customers will also have the ability to leverage new product innovation from Apptio's product family. Apptio customers will also benefit from existing Digital Fuel product capabilities, including service level management and a deep integration with VMware vSphere and cloud management solutions.
Alex Soltani, Skyview Capital Chairman says, "We are very excited about this transaction. We feel the combination of Digital Fuel and Apptio will create the leading platform for TBM globally."
More detail on this news will be provided on Apptio's 4th quarter earnings conference call, scheduled for Monday, February 5, 2018. Further call information can he found here.