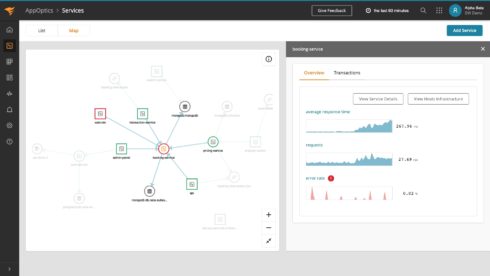 SolarWinds is updating its application performance management (APM) suite to help simplify application and infrastructure management. The new updates are being made to SolarWinds' AppOptics, Pingdom and Loggly solutions. 
"We believe IT pros need an APM solution with the capabilities to deliver full-stack visibility into the applications and infrastructure supporting business continuity and success that's not only easy to use, but costs a fraction of competing vendor prices," said Jim Hansen, vice president of product strategy, application and infrastructure management at SolarWinds. "With the latest SolarWinds APM Suite enhancements, we continue to make APM more accessible to all by streamlining and simplifying often cumbersome and complex application and infrastructure management tasks at an unmatched value."
For AppOptics, the company's infrastructure and APM tool, the latest release adds a service map that shows the relationships between services and dependencies. According to SolarWinds, this will allow teams better troubleshoot application and infrastructure issues in distributed environments. It features latency, requests per minute, error rate and CPU usage metrics as well as a service trace topology map. 
The website performance and availability monitoring tool Pingdom now features a web transaction recorded with details on how an end user interacts with a web app. 
Lastly, the log analysis tool Loggly features enhanced custom parsing and search UX, enabling users to automate indexing and parsing of logs.