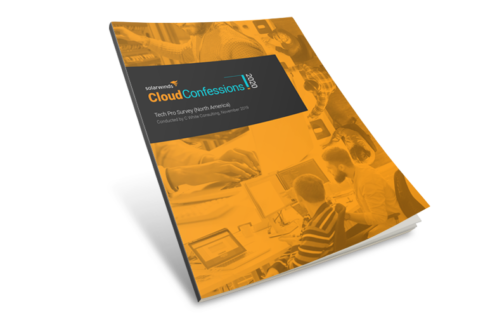 As application performance management (APM) becomes more mainstream, the need to educate companies on the tools and capabilities is crucial. SolarWinds has released Cloud Confessions 2020, which revealed while companies and development teams know the importance of APM, they aren't moving past troubleshooting. 
"This isn't surprising considering APM has typically been siloed across DevOps and Operations teams without a holistic view of the application code, supporting infrastructure, and end-user experience," said Jim Hansen, vice president of products and application management at SolarWinds. "To move beyond simply reactive troubleshooting, tech pros should consider modern APM tools as the keystone to connecting these previously siloed functions to gain comprehensive insight across the entire application stack. When tech pros achieve this level of proactive optimization with their APM tools, they'll feel more empowered in their roles, in collaborating across teams, and in communicating results to the business at large." 
RELATED CONTENT:
The future of APM is open
The APM Buyers Guide
According to the cloud confessions, technology professionals realize that they need to move beyond troubleshooting, and they need more training and education to do so. Respondents report the need to develop skills in tracking APM impact across key business metrics. 
The report also looked at how APM tools are being used, and found an even mix of SaaS and on-premises use cases. Fifty-nine percent are using APM tools for monolithic app development architectures, 40% for N-tier service-oriented architectures and $39 for microservices. In addition, the top three commonly deployed APM strategies are database monitoring, application monitoring and infrastructure monitoring. 
"Two-fifths of tech pros face challenges due to lack of awareness of what APM solutions are currently offered and confusion over which currently offered APM solutions are best for their needs," the report started. 
Additionally, respondents feel confident in the ability to manage and monitor apps either on-prem, in hybrid environments or in the cloud. However, this confidence is mostly related to troubleshooting abilities. Only 32% of respondents are confident in collaboration with team members. 
When it comes to challenges, the most cited problems included lack of training, lack of awareness, and confusion over which tool to use. 
The reasons for trying APM tools included the ability to prevent app outages, ability to prevent app slowdown, and the ability to improve user experience. "Tech pros are collecting these business metrics, but there is a need to bridge the gap between business metrics collected and tech pros' confidence in their ability to communicate performance to the business," according to the report. 
Some recommendations SolarWinds provides to address these challenges include:
Knowing which combination of APM elements are right for your environment
Developing an APM plan and understanding what APM is, which includes a 5 step plan:

Doing an inventory of applications
Assess key business insights and technologies
Evaluating APM tools
Test and trial of the tools
Measuring APM ROI or CRAW

Speaking the language of the business
"By understanding the APM world beyond troubleshooting, the possibilities for application performance optimization open up across the stack and across previously siloed teams. APM, when used to its potential, can be the great unifier of tech pro teams all working toward the goal of having highly available, great performing applications, and it can change the way modern businesses operate in the age of performance," the report stated.